Art, Technology and Emotions Converge to Boost Retail Experience at In-Store Asia Convention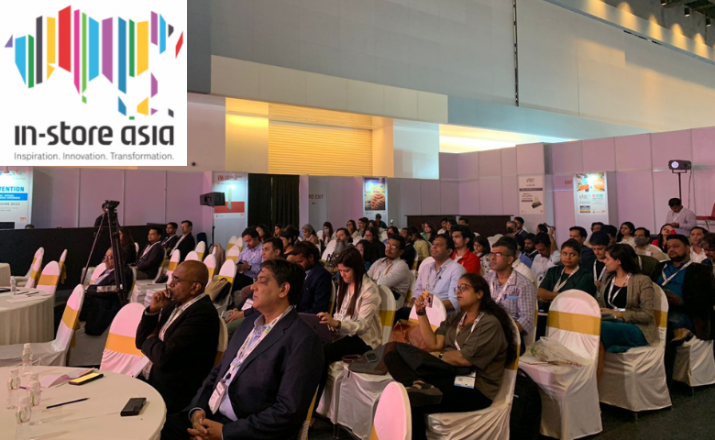 Art, Technology and Emotions Converge to Boost Retail Experience at In-Store Asia Convention
By Retail4Growth Office | July 01, 2022
The two-day convention at In-Store Asia 2022, part of EuroShop Dusseldorf, was held at the Jio world Convention Center (JWCC) on June 29-30esaw thought leaders and industry stakeholders discuss new emerging dynamics in the retail ecosystem under the overarching theme – "Reboot, Rethink, Redefine the Retail Experience"
If there was one undeniable lesson from the various sessions held within the framework of the In-Store Asia 2022 convention, it is that human experience and expression are always at the heart of the evolution of retail, although that it involves the intersection of art, technology and people like never before.
Indeed, the general theme of the 13th edition of In-Store Asia, led gently and dynamically by the show's host Keisha Lobowas "Rebooting, Rethinking, Redefining the Retail Experience" and the various speakers and panel discussions highlighted the different aspects of what it means to reboot and redefine the retail experience. Thomas Schlitt, Managing Director – Messe Dusseldorf India Pvt Ltd, set the context for the theme in his welcome speech on the first day of In-Store Asia, while Elke Moebius, The project manager, Retail & Retail Technology, Messe Dusseldorf GmbH, went deeper into the topic by talking about "Global Trends and Forecasts for Retail".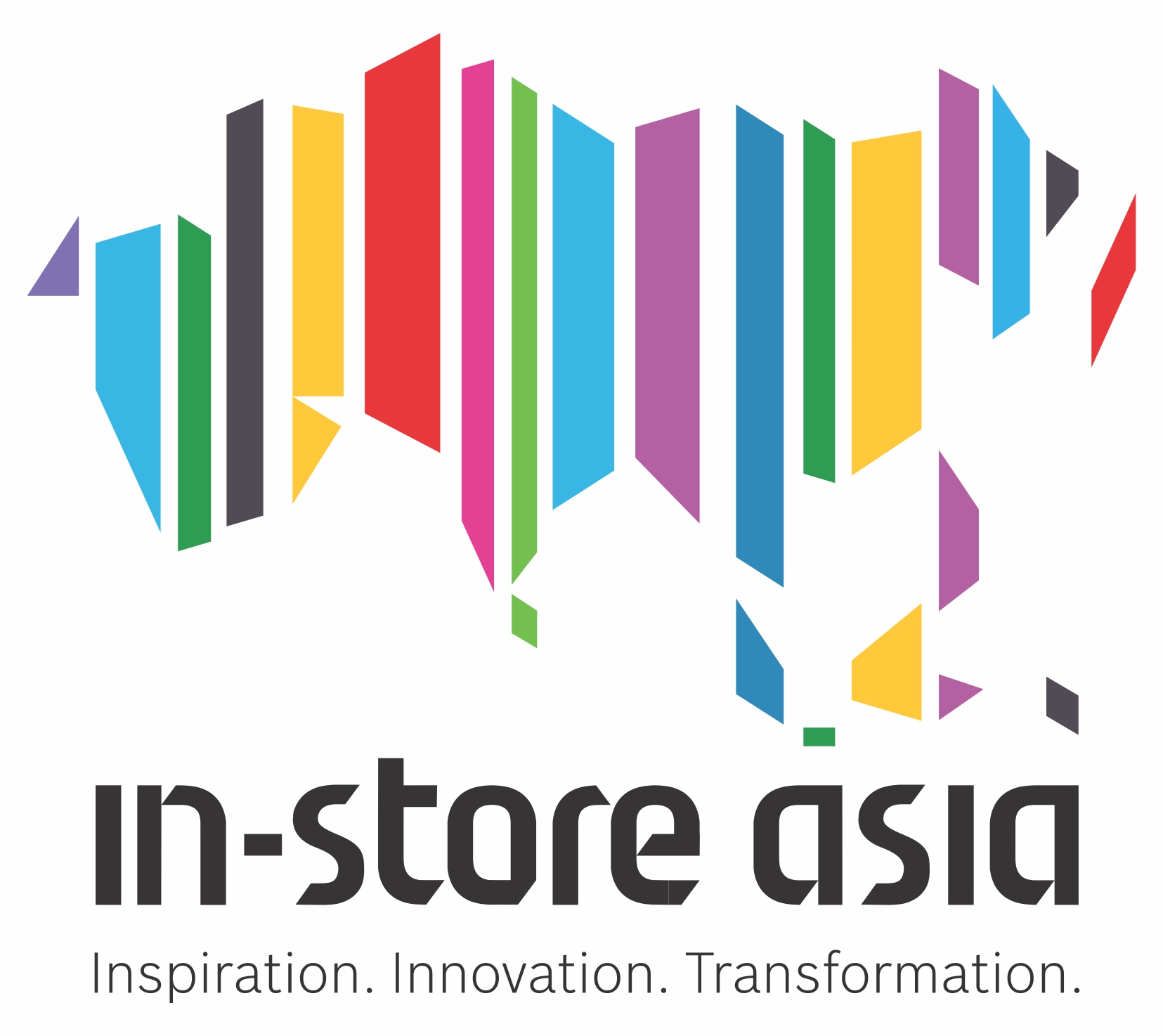 Kumar Rajagopalan, CEO, Retailers Association of India, further underscored the Indian perspective by talking about how Indian retail has evolved and "unlocked" through the various pandemic waves and lockdowns.
One category that has really grown amid the pandemic is D2C brands. In their presentation, Kurnal Rawat and Arnab Ray, creative directors at Landor & Fitchhighlighted what it takes all in 'Branding D2CBrands in a post-pandemic world".
A few other major themes emerged during the conference.
Redefining Commerce Means Redefining Experience
Experiential retail has been an overused theme lately. But it includes a series of aspects, which have been covered by the various speakers. Meenaz Shamim, Commercial Director, SGK, India and the Middle East, for example, have talked about creating unforgettable moments in the last mile of the consumer journey.
To recall the importance of the experiential quotient, the speakers were inspired by their own project experiences. Gérard Rebello, creative director – Elephant Designfor example, in his talk on 'Designing a Mixed Channel Experience," shared his experience of creating some retail experiences for brands like Jawa to find the right emotional fit with the customer, while Dhimant Bakshi, CEO, Imagicaa World Entertainment Ltdspoke about his experience curating a fun experiential platform for families and the dynamics that go with it. Dr. Mahesh M, CEO, Creaticitytook it a step further by sharing his own experience of "Creating a city to express creativity". As Mahesh pointed out, the challenge was to balance brand relevance with a unique experiential space that could help consumers express themselves.
Art as catalyst
Very often the emotional quotient in the retail experience is enhanced through the use of appropriate aesthetics and this is where the role of art becomes central in designing the retail experience. . Siddhant Sahu, Founder – A few steps forward, in his presentation, led the audience through some illustrative examples of "Combining art, culture and design" which made it clear that today brands are, and can be, patrons of art and culture to better reach their customers. He demonstrated this by taking inspiration from the examples of brands like Adidas, Nike, Christian Dior, Gentle Monster, Louis Vuitton, etc.
The evolving customer
The evolution of the customers themselves is inherent in all these observations. Whereas Rajat Wahi, Partner, Deloitte Consulting India, in his data-rich presentation, he explained how Indian retailers are ready to "Rewriting the Rules for New Retail Consumers", Rajiv Nair, Group CEO, Kaya Ltd, listed some important factors, while selling to ever-changing customers, especially in the beauty and wellness category. These factors include: emphasis on health and safety, "business everywhere", inclusiveness, among others.
The session "Integrated Brand Environment: How Humans and Media Have Evolved Post-Pandemic" presented virtually by "The One Off" featuring Adam Devey Smith, Managing Partner, Richard Collier, Creative Partner, and supported in the field by Rachna Lanewala, Studio Managerfurther highlighted the rapidly changing nature of consumer lifestyles, particularly in the aftermath of the pandemic, and the need to create relevant consumer touchpoints.
Sell ​​versus connect
The end goal of any aspect of the retail experience, whether it's service, store design, or VM, is of course to sell. But is that all? Indeed, two ends of this spectrum were covered in two different sessions. Rashoo Kame, Director, Account Management, Wooqer – One-Stop Operations App Day 1 explained how VM drives sales and explained the process by which the impact of VM could be mapped to achieve tangible results. On the other hand, the Day 2 round table on the theme: ' Creating unconditional love – the art of connecting with consumers' animated by Surender Gnanaolivu, Senior Consultant – Retail and Manager Experience – Strategy and Development, 4Dimensions Retail Design, highlighted the importance of establishing a real link with the customer to build loyalty. Panelists in this discussion included Akash Kumar, Virtual Machine Manager, Landmark Group; Anuradha Singh, Business Leader, IFB Industries; and Shradha Kurup, Head of Marketing and Virtual Machine, Raymonds Group. They all agreed that you couldn't buy loyalty by simply selling – you had to go the extra mile and build a relationship with the customer.
Technology is no longer just an add-on
No discussion of the retail experience is complete with the mention of technology. But today, technology is no longer an afterthought, it's a given, an integral part of the entire retail experience, whether it's adding jazz to the front-end or streamline back-end operations for overall efficiency. Interestingly, technology also includes ways in which retailers can be empowered. And it was exactly that Niladri Mukherjee, Founder and MD, Glue Design Pvt Ltdspoke in his session on 'Activate the NextGen Kirana'. Niladri presented to the public its patented Quiktile retail system that transforms Kiranas, supermarkets and pharmacies through intelligent and flexible use of space.
On Day 2 there was also Mr. R. Subramonian, MD, Adtech Systems Ltd, who spoke on global emerging trends in retail technologies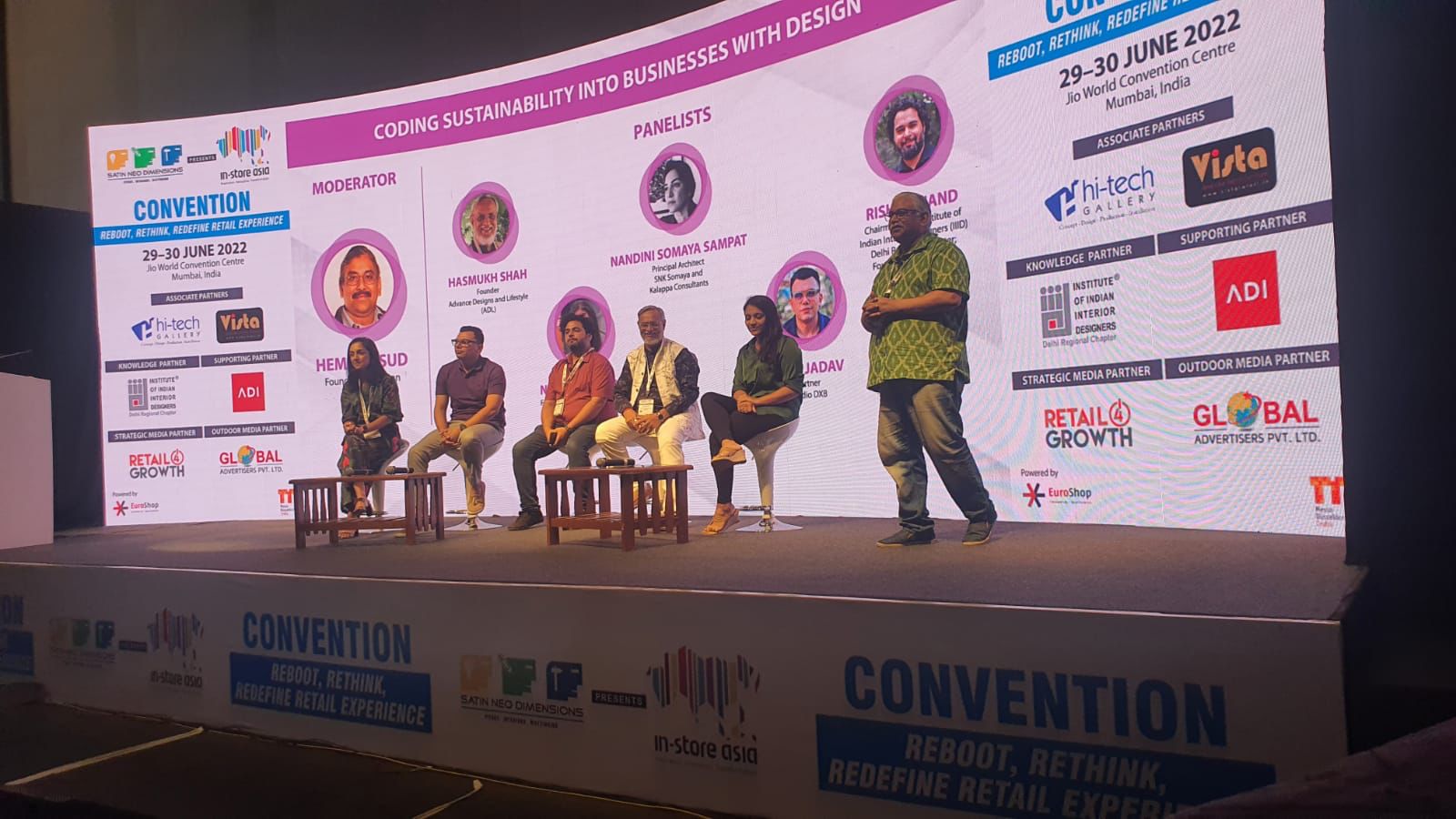 Can sustainable and viable go hand in hand?
Finally, there is the big question of sustainability in retail, what it means to be truly sustainable and whether it can become an integral part of retail practices. The round table "Coding sustainability in business with design" explored some of these and other critical issues in the context of sustainability and the adoption of environmentally friendly measures in retail. Moderated by Hemant Sud, Founder/Director/Principal Designer – Abraxas Interiors/Dimension Designers Pvt Ltd, and Founder/Chairman – Institute of Indian Interior Designers (IIID-DRC); other panelists included Nishita Kamdar, Founder and Principal ArchitectSNishita Kamdar studio; Hasmukh Shah, Founder, Advance Designs and Lifestyle – ADL; Rishu Anand, President Elect, Institute of Indian Interior Designers (IIID), Regional Chapter Delhi and Founder – Twenty North; Amit Jadav, Partner, Studio DXB; and Nandini Somaya Sampat, Principal Architect, SNK Somaya and Kalappa Consultants. As the panelists debated and discussed the issue of sustainability, one clear observation emerged and it was – sustainability as a practice could make a small start in retail even through simple measures like reuse/repurposing of waste, its categorization, the use of natural/sustainable waste/recycled materials, etc., and that it was really up to the designers – to explore and recommend these alternative options to the client.
So who is listening?