Tilly's Stock: attractive retailer focused on fashion for young people (NYSE: TLYS)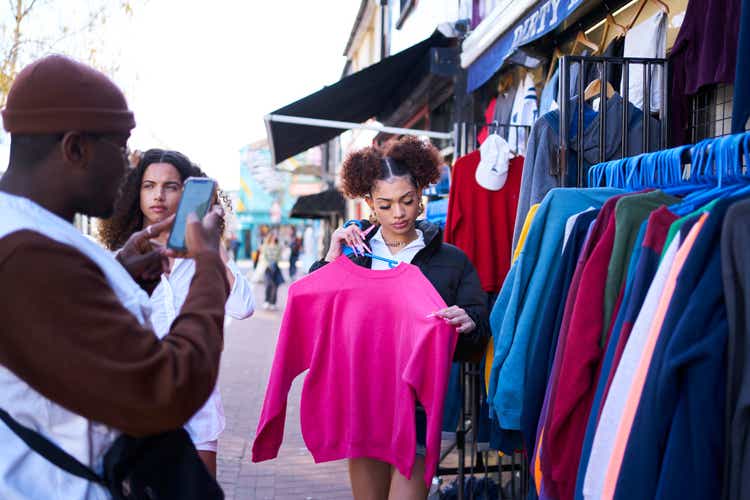 Poor companies rarely offer attractive investment opportunities. But every once in a while, you'll come across a company that really isn't that great but is priced so low that it's hard not to be tempted to buy. One such company is a specialty retailer called Tilly's (TLYS). Prior to the COVID-19 pandemic, the company had shown consistent revenue growth. However, profitability and cash flow have been rather volatile. All of this was amplified by the pain felt in fiscal year 2020 in response to the pandemic. Luckily for investors, the worst of the crisis is over and the company is trading at levels that should be considered quite attractive, regardless of the perspective from which you view them. Add to that the fact that the company has no debt and excess cash, and although financial performance has been mixed in recent years, this could present an attractive opportunity for value investors.
A specialist retailer
Tilly's today operates as a specialty retailer focused on casual wear, footwear, accessories and durable goods. The company mainly targets young men, young women, boys and girls. In particular, the company markets itself as promoting an active and social lifestyle, which makes sense given the demographic it targets. In its stores, the company sells a variety of leading third-party brands. These include Adidas, Brixton, Dickies, G-Shock, Ray-Ban, Spy, Roxy, etc. In addition, the company has its own exclusive brands. These include RSQ, Full Tilt, Blue Crown, Sky & Sparrow, White Fawn and others. These brands span a wide variety of products, ranging from clothing for different demographics to accessories and fragrances and more. While it's worth mentioning that their own proprietary brands account for only about 26% of sales, its third-party brands account for 74% of overall revenue.
As I mentioned before, the company focuses on young men and women, as well as boys and girls. According to the company, 37.2% of the company's overall sales come from men, compared to 26.3% from women. Clothing for boys and girls represents 8.9% of sales, while footwear represents 10.6%. Accessories are a particularly important category for the company, accounting for 15.8% of revenue. And durable goods account for the remaining 1.3% of sales. Another important point to make is that the company is devoting significant resources to growing its e-commerce operations. Before the pandemic, e-commerce accounted for just 15.9% of the company's overall revenue. That figure jumped to 32.6% in the company's 2020 fiscal year, but it's been down a bit since then. In the first nine months of the company's 2021 fiscal year, for example, e-commerce revenue accounted for just 19.9% ​​of overall revenue, with total e-commerce sales falling 3 .6% year over year.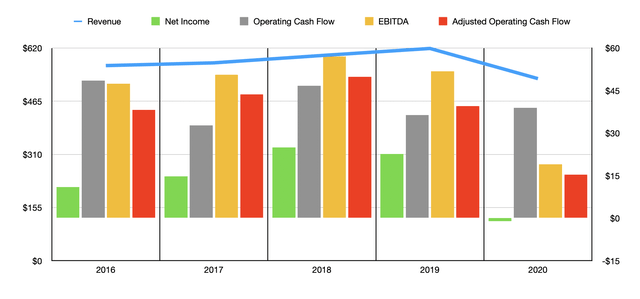 Over the past few years, management has been very successful in growing the company's turnover. Revenues fell from $569 million in 2016 to $619.3 million in 2019. But then, in 2020, sales fell to $531.3 million. Fortunately for investors, growth has resumed for the company. In the company's 2021 fiscal year, total sales were $775.2 million. This represents a 45.9% increase over what the company achieved in 2020 and is 25.2% more than the company's 2019 fiscal year. Although the company has benefited from steady growth in same-store sales in recent years, another driver, besides e-commerce operations, has been the increase in the number of stores for the company.

Between 2016 and 2019, the company grew from 223 locations to 240. As of this writing, the company has 241 stores in operation. Going forward, management expects to spend between $25 million and $30 million per year to add between 10 and 20 stores per year, with fiscal 2022 resulting in between 15 and 20 new stores. It's also worth noting that the company has achieved this growth while paying special dividends to investors over the past few years. Between its 2017 fiscal year and the end of its 2021 fiscal year, the company paid $5.70 per share in distributions, for a total of $169.91 million.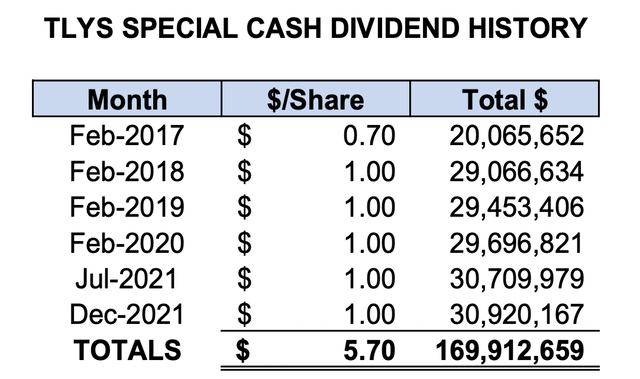 While this is great, it would be nice if management focused more on their results. As the first chart in this article illustrates, net earnings have been a bit volatile. After falling from $11.4 million in 2016 to $24.9 million in 2018, net profit dipped to $22.6 million in 2019 before turning into a loss of $1.1 million. in 2020. The good news for the company is that management expects net profit for fiscal year 2021 of $64.6 million, of which $52.2 million has already been reported for the first nine months of 2021. .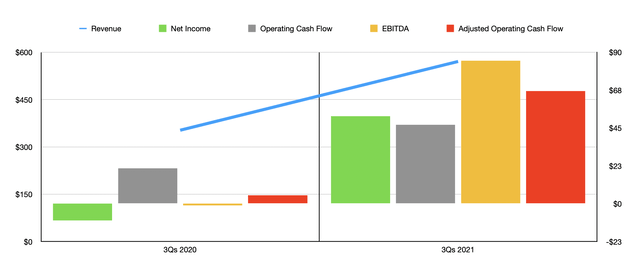 In addition to net earnings, we also need to pay attention to other cash flow measures. Operating cash flow has rebounded in a fairly narrow range over the past five years. In 2020, it was $38.9 million, up from $36.4 million reported a year earlier. Even if we correct for changes in working capital, there is no clear trend with operating cash flow. And when it comes to EBITDA, the trend is similar. Between 2016 and 2019, this measure ranged from a low of $47.5 million to a high of $57 million. But then, in 2020, it only totaled $19 million. The good thing is that all of those profitability numbers are up for the first nine months of the company's 2021 fiscal year. Operating cash flow of $46.9 million eclipses the $21 million reported in the first nine months of 2020. And EBITDA of $85 million is significantly higher than the negative of $1.1 million. dollars recorded a year earlier.
One thing that is important to note is that the volatility experienced by the business from an earnings perspective and from a cash flow perspective definitely clouds the waters when it comes to valuing the business. We can rely on management guidance for the net profit figure, giving us a price/earnings multiple, using fiscal year 2021, of 6.5. But there's no way to realistically estimate what operating cash flow and EBITDA might be for the year. To be conservative, I assumed that the last quarter of the year would be even for both, with the intention that I would rather err conservatively than liberally. According to this line of thought, the price to operating cash flow multiple with the business for 2021 would be 6.2, while the EV to EBITDA multiple would be 2.7. The latter benefits from the fact that the company has no debt on hand and $188.9 million in cash and cash equivalents. This significantly reduces its business value.

To put the value of the company into perspective, I decided to compare it to five similar companies. On a price/earnings basis, only two of the five companies I looked at had a positive reading, and those were 5.8 and 7.9, respectively. Using our 2021 data, that would drop Tilly right in the middle. Using the price/operating cash flow approach, the range for the five companies ranged from 4 to 45.2. In this case, three of the five companies were cheaper than our prospect. And using the EV to EBITDA approach, the range was 3 to 4.6, with data from only three of the companies being positive. And in this case, our prospect was the cheapest of the bunch.
| | | | |
| --- | --- | --- | --- |
| Company | Prizes / Earnings | Price / Operating Cash | EV / EBITDA |
| Tilly's | 6.5 | 6.2 | 2.7 |
| Citi Trends (CTRN) | 5.8 | 4.0 | 3.0 |
| Destination Group XL (DXLG) | 7.9 | 4.1 | 4.6 |
| Express (EXPR) | N / A | 45.2 | N / A |
| Chico FAS (CHS) | N / A | 10.0 | 3.5 |
| J. Jill (JILL) | N / A | 4.5 | N / A |
Carry
Although Tilly's seems to be growing at a good pace, I don't see the company as a high quality prospect. Management is making the mistake of paying large distributions instead of spending them on improving business results and focusing on additional growth. That said, while the company is a volatile prospect from a cash flow perspective, I can't help but agree that the stock price is pretty low on an absolute basis. Add to that the excess cash it has on its books and the fact that it has no debt, and the overall risk to shareholders, at least in the short term, seems incredibly low. For this reason, this could be a good opportunity for long-term value-oriented investors.